UOAM Download and Connection Guide
To download UOAM, please click the following link: UOAM v9
If you wish to connect to our UOAM server to share your positioning in game, the UOAM login server is uoam.uolostlands.com, port 2000. You can share it with everyone on the shard, or only a select group. To do this, goto the following in the menus:
"Link" -> "Link Controls":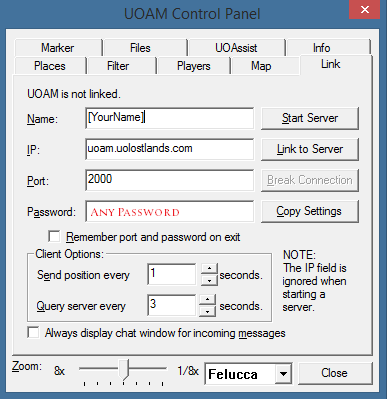 If you wish for a private session, use a password and share this password with others who wish to join the session. Otherwise, leave the password field blank.
Once you are ready to connect, click "Link to Server" to connect to uoam.uolostlands.com. If you wish to use your own private server, you can just press "Start Server" and then send your IP address to your friends (not recommended).